ORACLE – DISCOVER AND EXPLORE YOUR MAXIMUM POTENTIAL
Oracle is a hardware and software combination that aims to better guide students in their career choices. It could be used by guidance counsellors in high schools and would be suitable for other markets as well.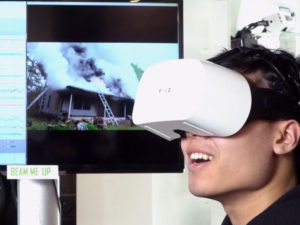 HOW IT WORKS ?
A virtual reality helmet with eye tracking presents immersive career videos to high school students. Simultaneously, a neural headset reads the student's emotions, commitment, and mental effort during the session. Meanwhile, a deep learning software invented by Beam Me Up Augmented Intelligence analyzes the student's reactions and adapts the content in real time to better undertand the interests of each person.